Acid House – Green Slush E-Liquid Review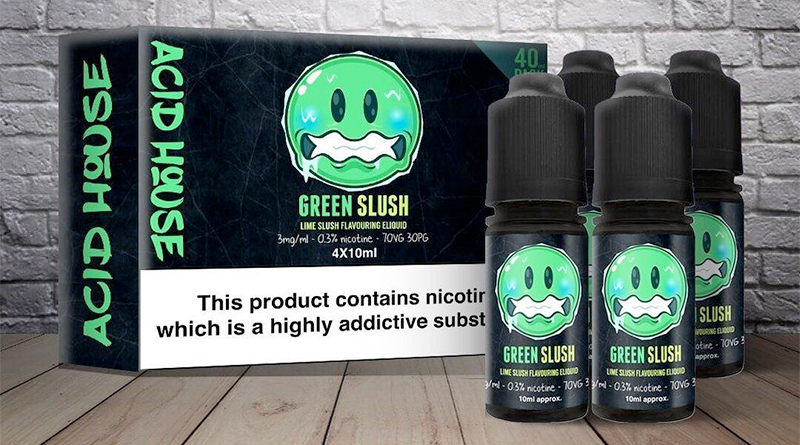 This review is for the Green Slush e-liquid by Acid House.  Acid House are a UK based manufacturer who currently have 5 e-liquid flavours in their collection.  They come in a pack of four bottles, each one in the usual 10ml TPD compliant bottles.  The e-liquid was 3mg with ratio of 70VG and 30PG.
Test gear:
Smok Alien 220W mod
Smok RDTA – twisted pair coil at 0.445ohm
Cotton bacon wick
Upon opening the bottle, I was hit immediately with a really strong green apple smell.  On closer inspection, it smelt like apple candy that reminded me of apple flavoured Fox's Glacier Fruit hard-boiled sweets. The bottle was soft and easy to drip onto my testing deck.
As usual, I started with lower power until I reached the optimum setting for my preferred taste and cloud output, which for this particular e-liquid was 75W.
The primary flavour note was green apple, but unlike the usual green apple flavours, this one wasn't just a fruity flavour.  It was sweeter, cooler, more mellow, and had an ever so slightly sour aftertaste.  I found myself wanting to keep going because it was such a smooth vape.
I can't say I've tried any slush flavours that taste exactly of slush, and this liquid doesn't either.  However, as far as slush reproduction goes I think that this particular e-juice does a really good job with the right amount of sweetness and coolness.   It's certainly a lot better than the e-liquids that decide to overdo it by making it "icy".
For the 70VG e-liquid the cloud production wasn't great, but that did mean that my workspace wasn't left smelling of flavour long after I'd stopped vaping.
Overall, I found that this e-liquid tasted delicious, left me craving for more, and I think it succeeded with its flavour profile by not trying to deliver an overly-complex flavour.