Liquid State Coney Cake E-Liquid Review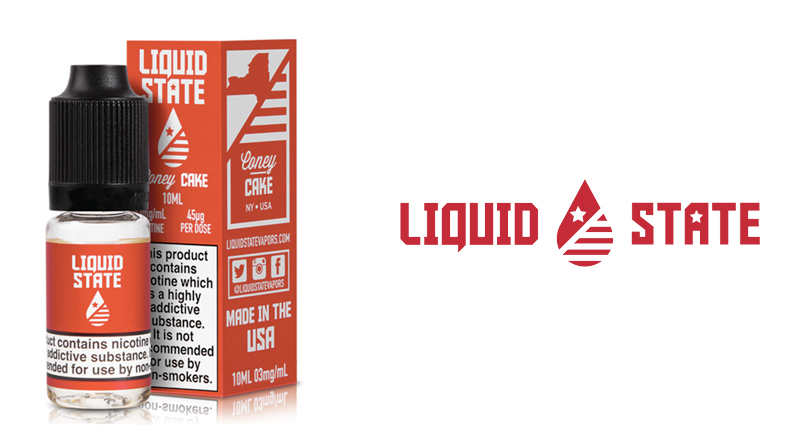 Today I'm reviewing Coney Cake e-liquid by Liquid State.  This e-liquid is part of the state series by Liquid State, with Coney Cake representing New York.  It's a 10ml e-liquid, 3mg in strength and a VG/PG ratio of 80/20.
Our Brooklyn boardwalk favorite is topped with powdered sugar and a rich vanilla bean ice cream. We finish it off with scoops of sweet berry compote made from fresh strawberries and ripe summer blueberries.
I'm using my usual setup of:
Smok Alien 220W mod
Wotofo Atty
Dual 0.445 twisted pair coils
Bacon cotton wicks
The overall smell came across as vanilla, cake (buttery), and custard.  It seemed to be lacking in the fruit smells (the strawberries and blueberries) mentioned in the description from Liquid State.  However, the cake smell itself was really pleasant and I couldn't wait to get started and vape this juice.
For this high VG e-liquid (80VG) I took the power on my up to 100W to bring out the best flavour, clouds and to minimise the throat hit.  It was quite decent on 90W too, but I felt that 100W just gave it that extra edge and made sure that I got the best out of this e-liquid.
The flavour profile seemed to match the smell, lots of buttery cake covered in vanilla, but to my disappointment there seemed to be minimal strawberry, and the blueberries were pretty much non-existent.  In order to remedy this, I took the power up to 110W, which toned down the overpowering cakey/custard and started to introduce more of the fruits.
Needless to say, vaping this high VG juice on a high power setting meant that the cloud production on this was phenomenal.  It also meant that there was a low throat hit, ideal for a 3mg e-liquid.   It is worth mentioning that when I set the mod to 85W, the same setting I used for the review of the 80/20 Cream Puff Factory e-liquid, this had quite a strong throat hit.
With my setup tweaked to get the best of this e-juice, I was very happy with the taste.  This e-liquid achieved everything it set out to do – it tasted exactly as described, with the sweet, sugary cake with notes of vanilla plus the fruity notes of both strawberry and blueberry.  The only real criticism would be that it could have done with more blueberry, which was still quite weak in the overall flavour profile.
It's something you'll have to vape in a higher gear, but certainly something that dessert lovers will be sure to enjoy.