Pacha Mama (Charlie's Chalk Dust) – Strawberry, Guava and Jackfruit E-liquid Review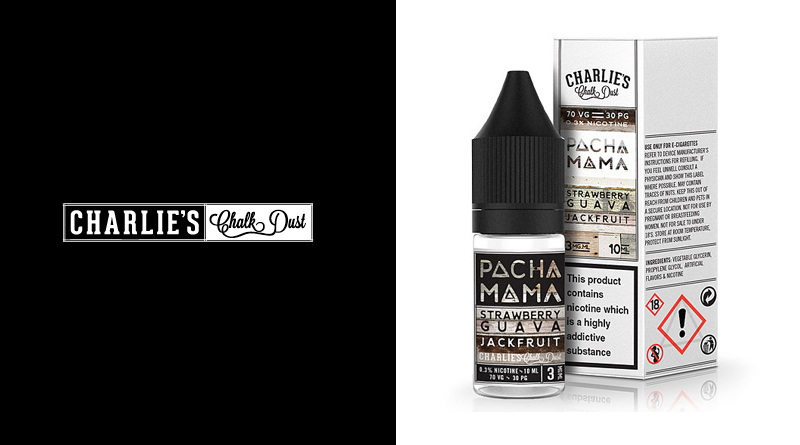 Today's e-liquid review is for Pacha Mama's Strawberry, Guava and Jackfruit e-liquid. Pacha Mama is a collection from Charlie's Chalk Dust, a US based company.  The e-juice came in a 3mg 10ml bottle, and has a VG/PG ratio of 70%/30%.  The packaging describes it as:
Sugary strawberry with bold guava and tropical jackfruit
Test gear:
Smok Alien 220W mod
Wotofo Atty – twisted pair coil at 0.379ohm
Cotton bacon wick
Normally I don't go in for looks, but this particular juice stood out with it's premium vintage branding, it's strong white plastic bottle with the see through nozzle through which I could see the Mountain Dew yellow coloured e-liquid and its soft-squeeze making it very it easy to drip the liquid.
At first smell I got a scent of strawberries and vanilla bean ice cream, that was very familiar to me from the Unicorn Milk flavour from Cuttwood.  After a good shake, it started to smell more like strawberries and jackfruit, which was promising but I was concerned for the lack of guava which usually has quite a strong and distinct smell.  For those that haven't tried some, jackfruit is a sweet tropical fruit that tastes somewhere between banana and pineapple.
Increasing the power on my mod to reach optimum taste and cloud production, I settled on 70W for this Pacha Mama juice.
The main flavour of this is a combination of strawberry and jackfruit, both of which are quite obvious and blend nicely together.  The guava on the other hand was quite weak and I could only get a faint aftertaste of it during both inhale and exhale, and only because I was looking out for it.  It certainly doesn't live up to the claim of "bold guava" but at the same time the great taste of the other two key components meant that I wasn't particularly disappointed.
There was no harshness or strong throat hit, which is what I would expect from a 3mg e-liquid.  The vapour production on this was quite low and not as much as some other 70VG liquids that I've vaped.
Overall, I think this is a fruity flavour that's quite sweet and sugary.  It tasted delicious, proved to be a smooth vape but lacked decent clouds.