Mad Hatter Juice – I Love Cookies Too E-Liquid Review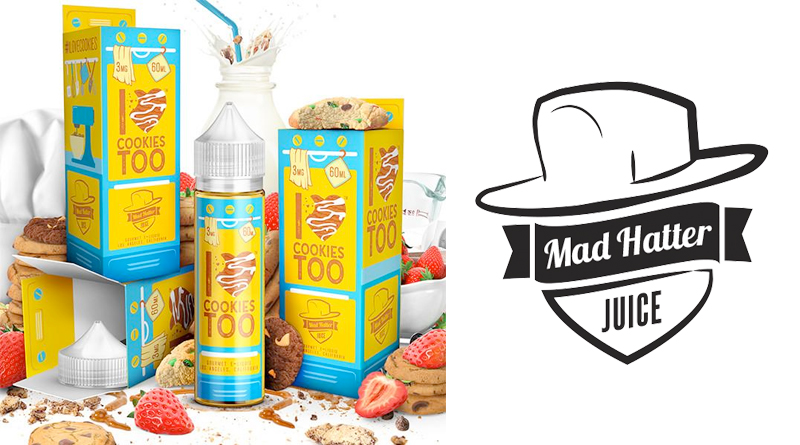 This e-liquid review takes a look at the I Love Cookies Too juice by Mad Hatter.  It's a 3mg e-liquid and comes in pack of 3x10ml bottles with a 70/30 VG/PG ration.  Mad Hatter are based in the USA.
Calling all cookie lovers! I LOVE COOKIES TOO is your new, all day vape. Freshly baked cookies with a hint of sweet strawberry and drizzle of delicious caramel, it's all your favorites in one bottle. Good luck putting this one down. Layered Cookies dipped in Ice Cold Milk with a hint of creamy Strawberry & drizzle of Caramel
The e-liquid smelt delicious, with notes of cookies, strawberry and butterscotch.  The cookie smell resembled that of the cookies you get in packets like Maryland or Cadburys rather than freshly baked ones.
I setup my vaping gear to 75W which seemed to hit the sweet spot for this e-liquid.  The flavour notes were easily definable, and the cloud production was ideal.
The taste starts off with a soft cookie and slowly introduces caramel and overlying notes of strawberry; a delightful combination.  It finishes off with a strong and lingering taste of cookies on the exhale, which remain behind as a sweet aftertaste.  There was also a bit of creamy butterscotch that was very subtle but present throughout the full inhale and exhale.
It had a mild throat hit but nothing substantial or unlike many of the previous e-liquids that I've reviewed.  The clouds from this e-liquid were very impressive, especially considering that I was vaping at a lower power than usual, and that it's only 70VG.
After a day of vaping this e-juice, I found myself feeling that the taste was too rich and overwhelming for constant use, and whilst it's listed as a con I appreciate that others might consider it a pro for being packed full of flavour.
The overall taste was quite pleasant and seemed to match up what Mad Hatter described it as, getting the right balance of strawberry, cookies, and caramel plus the butterscotch.  The only thing missing was the milk but I can't say that it was missed much.
I Love Cookies too is an e-liquid that hits all the right notes and is the perfect vape for cookie lovers.