Twelve Monkeys – Harambae E-Liquid Review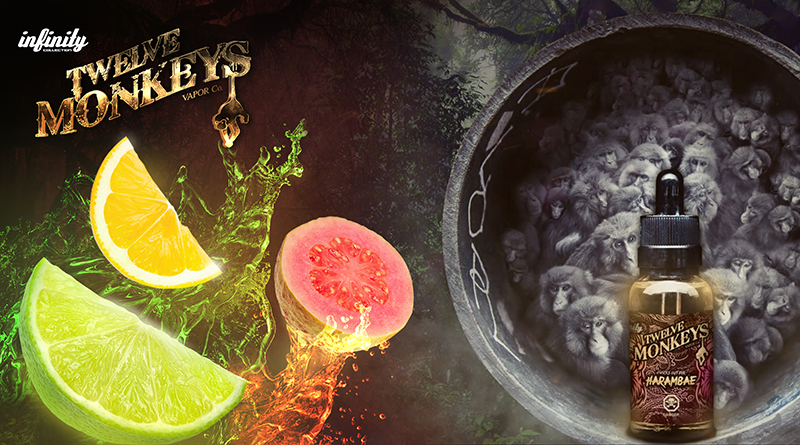 This review is for Harambae by Canadian manufacturer, Twelve Monkeys.  Harambae is available in a triple pack of 10ml bottles, in well designed cylinder packaging.  The e-juices in the Twelve Monkeys range have varying VG/PG ratios – Harambae is 80/20.  The liquid being reviewed has a nicotine strength of 3mg.
Harambae features a tangy citrus unison of grapefruit highlights fused with lemon, lime, blood orange and refreshing guava undertones. The zesty and sharp exhale of this citrus synergy will be the savior to your taste buds when everything else feels dull!
The first smell I got from this was of the Lilt fizzy drink (not sure if they make that anymore but that's what it reminded me of) – tropical with citrus notes.  On closer inspection I was able to easily recognise guava, orange (sweet like an orange Starburst), and a general citrus smell (mostly lime).  The overall combination was really pleasant.
I went up to 85W on my mod to get a decent pull, taste and clouds. Initially I could only taste the citrus notes of orange, lemon and lime, but after a few puffs it started producing the rest of the flavour including the guava and grapefruit.
There was a lot of sweetness to this flavour too – I'm guessing it was added in to reduce the harshness from all the citrus fruits, but unfortunately this meant it also removed some of the tanginess that I would have expected from such a flavour.
The cloud production on this was superb, and it didn't take much to get the room fully smoked out.  One of my biggest issues with this was the noticeable throat hit; whilst not too strong it was always present and not something that I'm fond of in a 3mg strength.  It felt more like a 6mg.
I think Twelve Monkeys have done a fantastic job of producing an e-liquid that tastes of all five flavours that they've described this e-liquid with.  The sweetness and the throat hit were the only two things to let this e-juice down for me.