I VG Sweets – Drumstick E-Liquid Review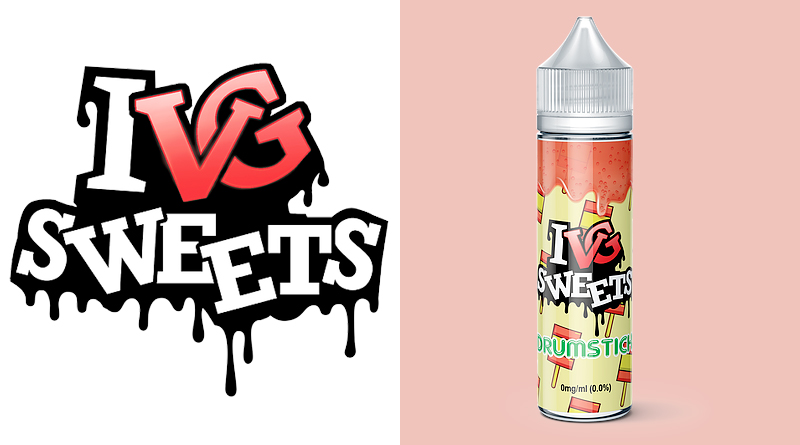 Today I'm reviewing the Drumstick flavour in the I VG Sweets e-liquid collection. I VG are a UK based manufacturer who now have over 25 flavours across their various ranges.  Their e-juice is 70VG/30PG, 0mg and comes in a 60ml chubby gorilla shortfill bottle, 50ml of e-liquid with 10ml space at the top for a nicotine shot.
A delicious fruity and creamy flavour all combined delicately. The only thing you can't do is bite but you can taste every bit of this delicious sweet!
The initial smell of this e-liquid was a milky, vanilla taste that reminded me of Chewits sweets.  There was also a softer but distinguishable note of rhubarb too.
The liquid was decent at 60W but I went up to 70W on my mod out of preference, which I think helped bring out the flavour more and also gave out better clouds.
When vaping the e-liquid I noticed a really strong and overpowering "ice"/cool taste which masked the rest of the flavouring.  After a few pulls, I got more accustomed to it and this iciness did go down a bit; I was able to taste more of the rhubarb, and a milky, chewy candy.
On this 0mg e-liquid, there was no throat hit, and this remained true even when I added in a nicotine shot to make it 3mg later on.  The cloud production was ideal at 60W and got even better at the higher power settings.
The iciness does seem to be a common trend in I VG e-liquids – I noticed the same thing in the Bubblegum Millions e-liquid review from a few weeks ago.  Drumstick lollies are supposed to be a combination of raspberry and milk, but in this juice it tastes a lot more like rhubarb and milk – though it does still taste great.
This particular e-liquid had a very pleasant taste, but unfortunately I don't think it was quite the flavour that it's supposed to represent.  Instead of raspberry it tastes more like rhubarb, and the icy component is unnecessary yet it's now been in two out of the two I VG Sweets e-liquids that I've reviewed.  The combination of rhubarb and milky, chewy candy does work but then there's the ice hit that follows.