Cream Puff Factory – Strawberry (by Penguin, manufactured by Ruthless) E-Liquid Review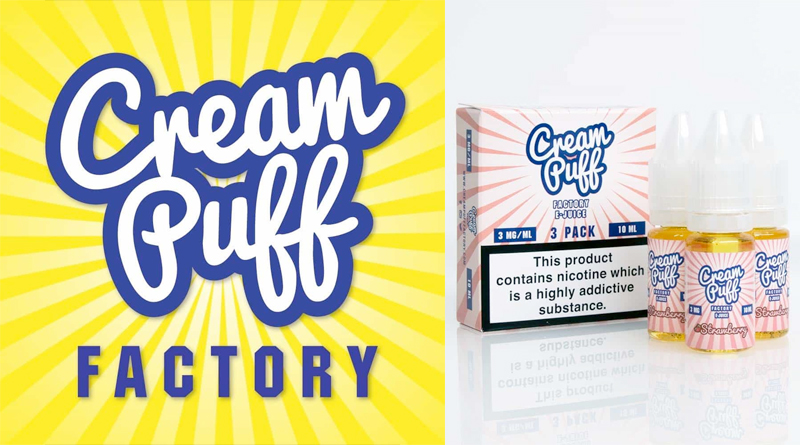 Today I'm reviewing Cream Puff Factory Strawberry e-liquid.  This one is branded by Penguin and manufactured by Ruthless.  It comes in a pack of 3 10ml bottles with a 80/20 VG/PG ratio.  They're available in a range of nicotine strengths, and the one in this review is 3mg.
Smok Alien 220W mod
Wotofo Atty RDA – twisted pair coil at 0.445ohm
Cotton bacon wick
Vape into the taste of a savory Strawberry filling, loaded into a deliciously soft Cream Puff!
Giving it a good shake, I went ahead to open the bottle but the top was stuck.  Luckily I had a pair of wire cutters handy from setting up the coils on the RDA, and was able to get it open by breaking apart the seals between the cap and neck ring.  Most likely this was bad luck, but thought it worth mentioning as it seemed to be quite a contrast between the premium look and feel of the Charlie's Chalk Dust bottle from my last review.
Anyway, once opened the smell consisted mainly of strawberry but complemented by notes of custard, cream and a general sweetness.  The sweetness was quite similar to that of Party Ringer by The Biscuit Man.
With this being an 80VG liquid, I started off on 60W and then increased the wattage in increments of 5W until I reached a desirable taste and cloud production.  For this e-juice I went for 85W.
The main taste of this e-liquid is strawberry (unsurprising) and you can certainly taste the pastry and the cream components.  Whilst I could smell custard when I opened the bottle, I was pleasantly surprised to find that there was only a soft undertone of custard in the taste, and it didn't get in the way of the key flavours.
However, during the inhale it did seem a bit artificial. More noticeably, after the exhale I noticed a lingering, artificial aftertaste that didn't quite go away and left me feeling the need for a drink to clear my mouth.  Even after that, coming back to the room I noticed that the smell had filled the room.
The cloud production was great, I got lots of thick clouds without even trying.  There was no throat hit on the 3mg e-liquid.
An impressive flavour that certainly matches up with the description, so kudos to Cream Puff Factory/Penguin there.  But it's let down by the artificial taste during vaping, and the aftertaste and smell afterwards.