Innokin Ares MTL RTA Review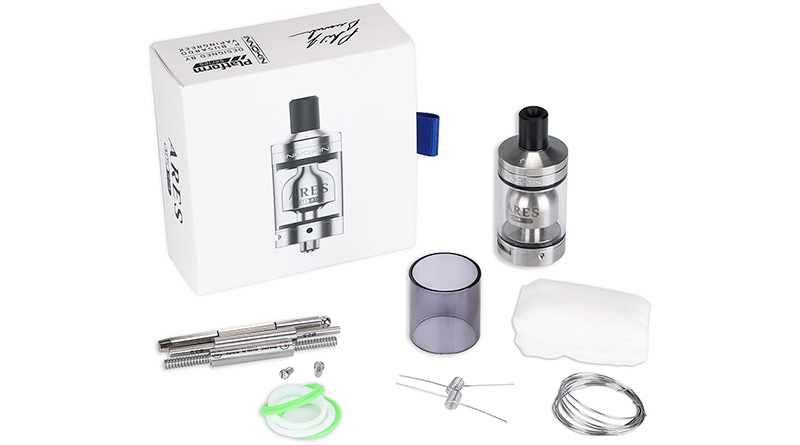 An RTA is a rebuildable tank atomizer, which provides the best of both worlds – a tank system with coils that you build yourself.  The benefits of using an RTA is that you don't need to keep dripping, you can fill up your tank like a normal tank, and you also get to build your own coil, which is a lot cheaper than buying stock coils and you also get full control over the wire and coil type.
This video by Zophie Vapes takes a look at the Innokin Ares MTL RTA.
From the manufacturer:
The Ares atomizer is a collaboration between Phil Busardo, Dimitris Agrafiotis, and Innokin. The goal was to create an affordable mouth to lung rebuildable tank atomizer (RTA) that was easy to build, easy to work with, easy to fill and provided an outstanding vape for the mouth to lung (MTL) crowd. Delivers incredibly delicious clouds of flavors !
It will be available in both 5ml and 2ml TPD compliant versions.
It features a top side filling system, a drop-in coil sky build deck, a liquid barrier to help prevent leaking and seepage, and a user adjustable airflow with numerous settings.
The airflow has been designed with the MTL style of vaping in mind giving the user the ability to adjust the airflow from a tight cigarette style draw to a slightly more open draw. The air will then travel to the diffuser which will distribute the air over the coil. The air will travel to the top of the bell to the reduced chimney designed to flavor and throat hit for those who crave it. The entire system and rounded bell is designed to make filling a little easier and to reduce air turbulence for a smooth, quiet, satisfying vape.
The Ares comes with everything required to get you started including a spare glass tank section, two mouthpieces, spare build screws, two coil building tools (Phil's is much better than Dimitris'), loose wire, prebuilt coils, multi-colored o-rings, and natural organic Japanese cotton for wicking.
There is also a QR code on the box that will direct you to tutorial videos that will help you work with and build the tank.
We truly hope you enjoy the Ares atomizer!
Contents
1x ARES RTA
1x Organic cotton
2x Pre build coils
1x 1M wire ,
2x Sets of screws (Phillips and Straight),
Black orings installed
2x Green orings
2x White orings
2 Types of drip tips (wide and narrow bore)
Clear glass installed
1x Smoked glass replacement or different look
1x Multi Screwdriver
1x Phils Build Tool
1x Dimi build tool