Ruthless Vapour – Swamp Thang E-Liquid Review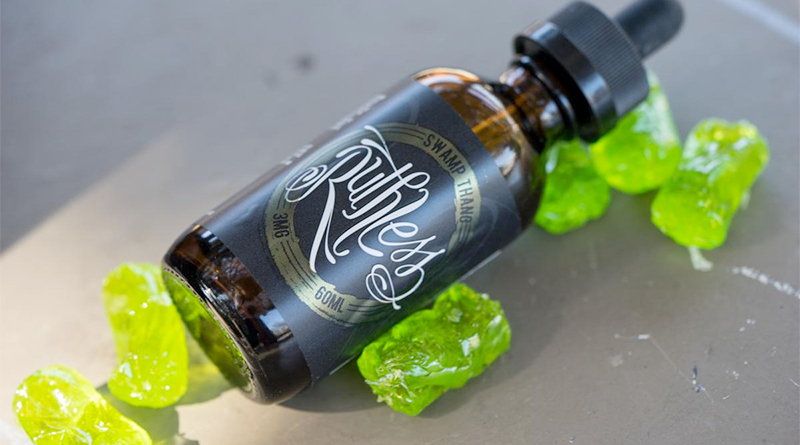 Today I'll be reviewing Swamp Thang e-liquid by Ruthless Vapour (US-based).
For this review I'll be using:
Atty2 RDA
Twisted pair coil
Cotton bacon wick
Smok Alien Mod
Officially, Swamp Thang is described as:
Straight out of the "bayous" in the great state of California, Swamp Thang e-liquid has emerged. Enjoy a delicious burst of sour candied apples, paired with a smooth and mellow throat hit.
Having opened the bottle for the first time, I gave the bottle a good sniff and the smell was almost instantly recognisable – the green (apple) sour Jolly Rancher sweets.  The next step was to drip this e-liquid onto my Atty and let it soak into the cotton.  I normally tend to vape at 65W but for this review I tried various wattages.  Anything below 50W was completely useless, Swamp Thang is 85% VG and running it at lower power just wasn't sufficient to product any decent vape or flavour.  Switching back to 65W I was able to get decent 3-4s puffs that gave off massive cloud production.
On the inhale, I was greeted with a green apple flavour, that seemed almost identical to biting into an actual apple.  Whilst green apple was the predominant flavour, there was a slightly sweet aftertaste which wasn't unpleasant but was unexpected for a flavour that's supposed to be sour.
The apple was really impressive, but to my disappointment I found it really lacking when it came to the sour component.  Though I could detect a hint of sour during the inhale, there just wasn't enough to produce tangy, sour taste so in effect I was mostly just vaping green apple flavour.
After a couple of days it was still decent and not become sickly unlike some of the other candy flavour eliquids.  The throat hit was pretty mild and soft on the 3mg e-liquid that I tried.
Overall, it just wasn't sour enough though it did make a really good green apple flavour.  If you like apple flavoured e-liquids then this is definitely worth trying but just remember not to go in expecting it to be sour too.